Travel conveniently from neighborhoods to shopping centers, local schools, medical offices, and work sites on the Madera Metro fixed-route transit services. For those who need curbside pick-up and drop-offs, Dial-A-Ride (DAR) paratransit services will get you there. To find more information regarding Madera Metro or the DAR, please click on the tab below.
Please visit us on Facebook at Madera Metro to stay current on all news as it relates to routes, updates, and passenger guidelines.
For all customer service needs and/or complaints, please email the Transit Program Manager David Huff @ vog.a1642664791redam1642664791@ffuh1642664791d1642664791. Emails are typically responded to within 24 business hours.
To plan your trip, click the Madera Metro image below.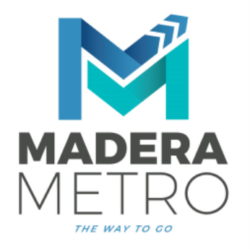 Holiday Service Hours
New Year' Day Saturday, January 1 – No Service 
Martin Luther King Monday, January 17 – Modified Service (9am – 4pm)
President's Day Monday, February 21 – Modified Service (9am – 4pm)
Memorial Day Monday, May 30 – Modified Service (9am – 4pm)
Independence Day Monday, July 4 – No Service
Juneteenth Sunday, June 19 – Modified Service (9am – 4pm)
Labor Day Monday, September 5 – Modified Service (9am – 4pm)
Columbus Day Monday, October 10 – Modified Service (9am – 4pm)
Veteran's Day Friday, November 11 – Modified Service (9am – 4pm)
Thanksgiving Day Thursday, November 24 – No Service
Day after Thanksgiving Friday, November 25 – Modified Service (9am – 4pm)
Christmas Eve Saturday, December 24 – Regular Schedule (9am – 4pm)
Christmas Day Sunday, December 25 – No Service
New Year's Eve Saturday, December 31 – Regular Schedule (9am – 4pm)
*Modified Schedule – Service will be provided following the Fixed Route Saturday Schedule
---