City of Madera:


LATEST NEWS
January 2, 2018
City of Madera's fixed-route public transit service is expanding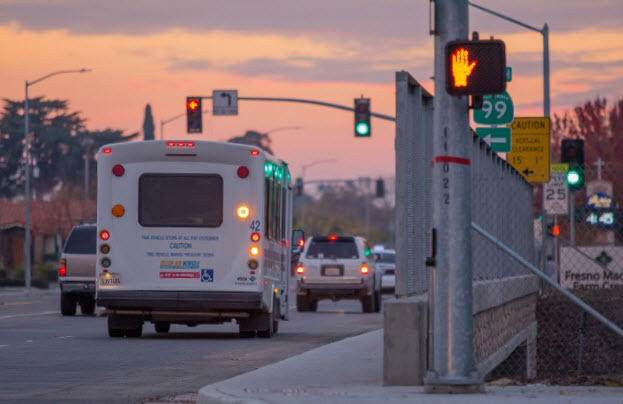 Two new MAX bus stop signs grace the roundabout in front of Madera Community College Center (MCCC). They lay in wait as the City of Madera will initiate a new Madera Area Express (MAX) route to MCCC. This expanded service will have a "soft launch" on Tuesday, January 2, 2018, with a grand opening later in the fall. The general public transportation service will be offered Monday through Friday 7:00 a.m. to 5:00 p.m. The new Route 3 going to MCCC will depart from behind Walgreens (on Cleveland Ave.) at 15 minutes past the hour and arrive at MCCC in 30 minutes with 3 stops in between at: Schnoor & National; P Street & Yosemite; and Madera South High School. Passengers coming from the eastern part of the City can board a one-time morning connection express from the Pan Am Center at 7:00 a.m., and transfer at P Street to get to the College. The rest of the day, hop on any regular Route 1 bus and transfer at P Street.
The City initially piloted a fixed-route service to the College back in 2009, but due to low ridership and a discontinuation of grant funding, the service was forced to end. "This time will be different," said the City's new Transit Manager, Debra McKenzie. "Our model is more strategic, with the new Route 3 fitting more efficiently into current operations and working closely with the College to make sure our public transportation options are comfortable and convenient."
In a statement released Tuesday, MCCC Vice President Dr. Claudia Habib praised the partnership between Madera Community College Center and the City of Madera. "This is a true demonstration of our shared vision to improve the quality of life for all Valley residents. I'm glad we are able to improve access to the campus for students and faculty alike."
In addition to helping market the new service on campus, MCCC will host special promotions that include free tickets and free monthly passes on MAX. City officials say to expect a full grand opening with ribbon cutting and all the hoopla when two brand new buses that will serve Route 3 arrive later this year. The 25-passenger wheelchair accessible buses will feature USB charging stations to allow students to charge their cellphones, tablets or other electronic devices while on their way to classes. "This represents just one of a series of technology-related amenities we will bring to Madera transit," said City of Madera Grants Administrator, Ivette Iraheta. "Our City Council was clear that bringing technology advancements to Madera is a priority, and we aim to deliver."
Analysis of the new Route 3 demonstrates a benefit to both Madera's minority and low-income populations and meets Title VI requirements of the Federal Transportation Administration. What's more, the new Route 3 represents a key expansion for the MAX service area by connecting the safe, reliable transportation system to a prominent destination outside the city limits.
Contact: Debra McKenzie
Telephone: 559.661.3689
Email: dmckenzie@madera.gov
Learn more about Madera's transit services at www.madera.gov/transit