City of Madera


Election Information
Election Information Overview
City of Madera elections are held every two years in even numbered years.  The City of Madera consolidates its municipal election with the statewide general election administered by the Madera County Clerk / Recorder Elections Division.  For the latest election information and forms, visit the Madera County Elections website.
Voter's Choice Act County
All registered voters in Madera County will be mailed a vote by mail ballot on or about October 5, 2020 and in-person voting opportunities will begin on October 31, 2020 and through Election Day, November 3.
Governor's Executive Order N-64-20
Governor's Executive Order N-67-20
NEXT GENERAL MUNICIPAL ELECTION
November 3, 2020
BALLOT MEASURES FOR THE CITY OF MADERA NOVEMBER 3, 2020 ELECTION
Measure R: Cannabis Business Tax Measure
On July 15, 2020 the Madera City Council passed a resolution submitting to the city voters a ballot measure to establish a business tax on businesses which sell, distribute, manufacture, and cultivate cannabis including industrial hemp and hemp products. Click here to view the resolution in its entirety. Measure R will be on the ballot for the November 3, 2020 election.
Measure R Documents:
Primary Argument In Opposition of Measure – None received
The argument submittal periods for this measure have closed. As only an argument in support of the measure was received there will not be a rebuttal argument period.
UPCOMING VIRTUAL COMMUNITY WORKSHOPS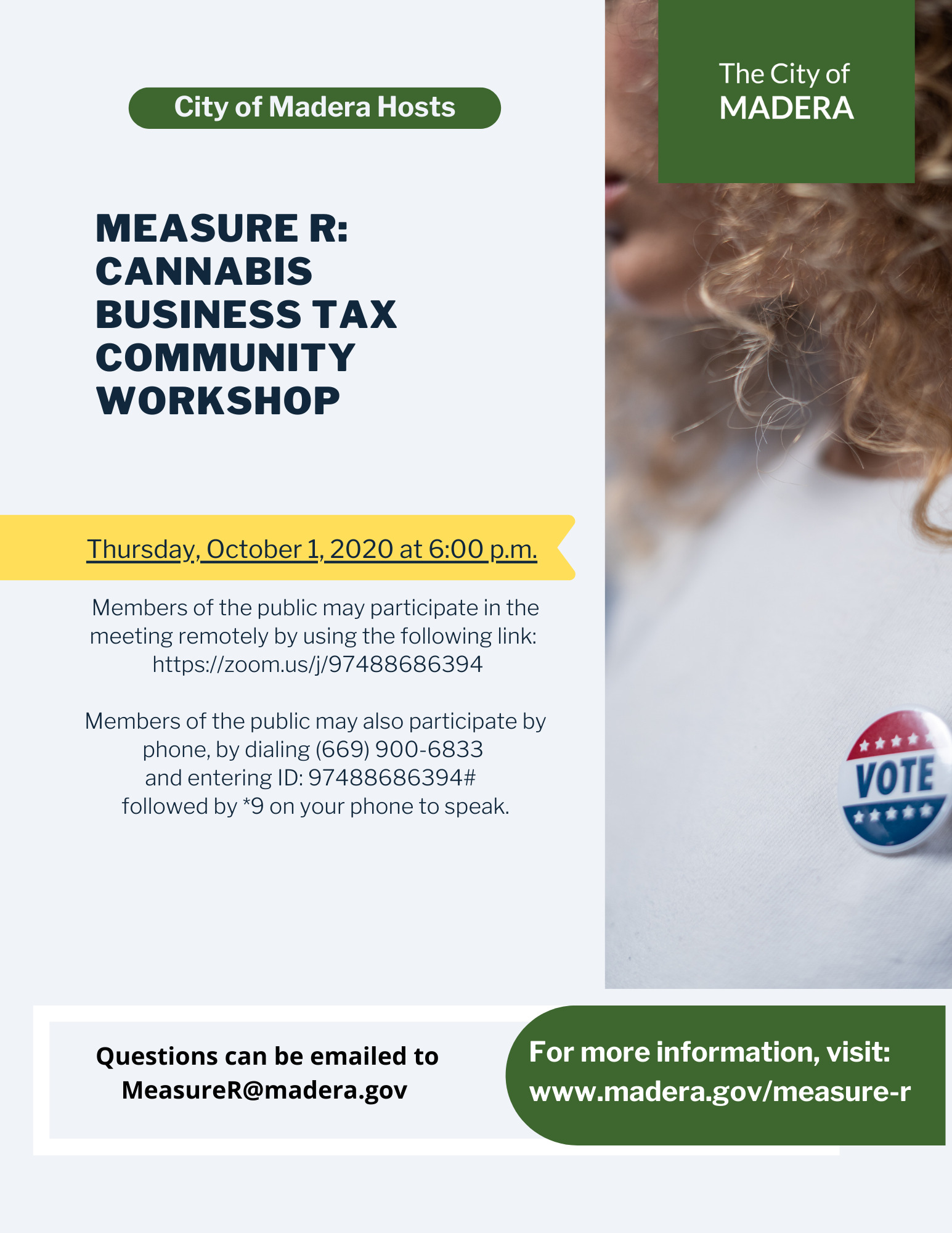 Three community workshops have been scheduled to help residents learn more about Measure R. Click below for event details.
•  Thursday, October 1, 2020 at 6pm – English workshop
•  Wednesday, October 14, 2020 at 6pm – Spanish workshop
•  Thursday, October 15, 2020 at 6pm – English workshop
Questions/comments about Measure R can be sent to vog.a1601495473redam1601495473@Reru1601495473saeM1601495473
How to Run for Office
The candidate filing period for the November 3, 2020 General Election is July 13 through August 7.
Visit the Vote Madera website for candidate filing information.
Council District Maps
All Council Districts  (Printer Friendly)
All Council Districts (Street Detail)
Links
Ordinances Establishing "By District" Elections & Elected Mayor
Ordinance 871 C.S. adopted 5/19/10.
Ordinance 890 C.S. adopted 10/19/11. Boundaries adjusted.
Register to Vote
Contact the Madera County Elections office at (559) 675-7720 or visit https://registertovote.ca.gov/ for additional information.
Madera County Clerk
200 W. 4th St.
Madera, CA 93637
Contact Us
City of Madera: Office of the City Clerk
205 W. 4th Street
Madera, California 93637
(559) 661-5405