City of Madera:


LATEST NEWS
July 17, 2019
A new playground is now open at Pan-Am Park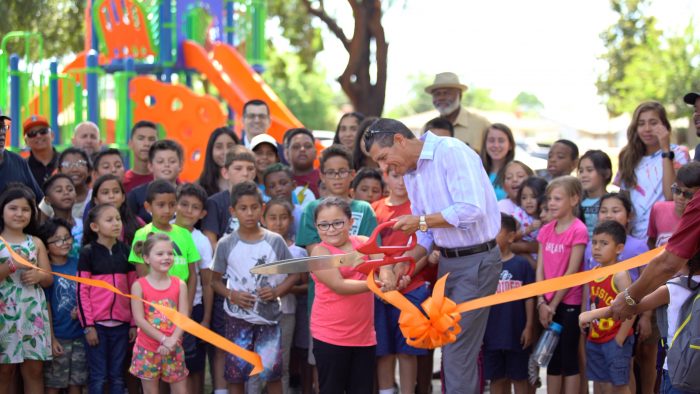 A ribbon cutting ceremony was held this morning at 11:00am for a new play structure, and other renovations recently unveiled at Pan-Am Park. With frequent visits from maintenance staff over its 13 years in service, it was clear that the old playground had stretched beyond its useful life, and was ready to be retired once and for all. As contractors were at work replacing the playground equipment, Parks staff took the opportunity to replace benches, a barbecue in the pavilion, and perform some minor concrete work.
According to Interim Parks Director, John Scarborough, while this represents great improvement to Pan-Am Park, this is only the first in a series of enhancements the parks team intends to bring to the City's parks.
"Today's event is about our children, and a better quality of life for Maderans," said Madera Mayor Andy Medellin to a crowd of community members, excited children, elected officials, and city staff, before introducing District 4 Councilmember, Derek Robinson, whose district includes Pan-Am Park. "The Pan-Am Park playground is beautiful and safe. Parks are conducive to a community's well-being. I'm excited about this moment." With that, the ribbon was cut and anxious children darted into the new playground.
The funding for the playground at Pan Am was received from a Housing Related Parks Program (HRPP) grant. The grant funds come from the State of California Department of Housing and Community Development (HCD). The total amount of the grant and project was $134,000.