City of Madera:


LATEST NEWS
November 8, 2018
City Council confirms Arnoldo Rodriguez as Madera's new City Manager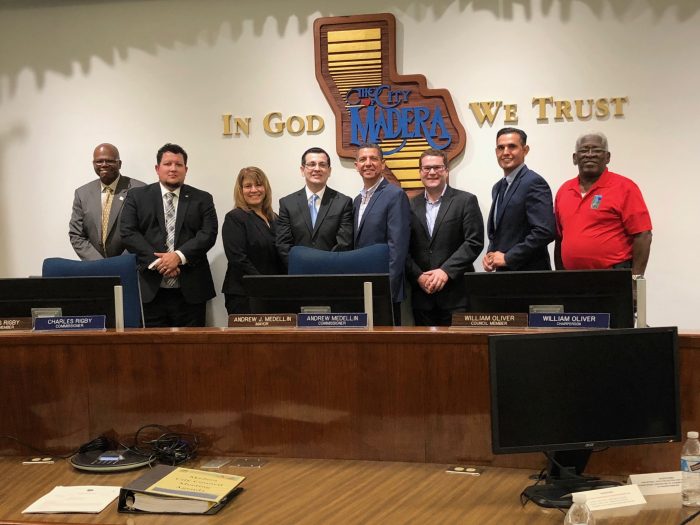 During last night's City Council meeting, the Madera City Council took action to confirm a contract appointing Madera native, Arnoldo Rodriguez, as the City of Madera's new City Manager. In June, 2018, the City retained Bob Murray and Associates to conduct a national search for its next City Manager. This comes after an exhaustive search, that included the Mayor, City Council, City staff, and community leaders.
As a graduate of both Eastin-Arcola and Madera High School, Rodriguez is no stranger to the Central Valley. Recognized by his peers as a driven and ambitious leader, Rodriguez has over 16 years of local government experience. Rodriguez's first job was working alongside his family in the fields in and around Madera harvesting grapes, garlic, and chilis. Rodriguez credits his parents with instilling an unrelenting work ethic in him early in his childhood, citing their desire to see him advance his education and pursue a career in public service. Rodriguez spent 13 years in a number of roles in the City of Fresno's Development & Resources Management Department. Currently, Rodriguez serves as the Development Services Department Director for the City of Yuba City.
"I've always had a desire to return home to serve my community," said Rodriguez. "For the opportunity to present itself is exciting for my family and I, and we look forward to raising our children in Madera. Having them attend some of the same schools that I did — it's humbling." Arnoldo and his wife, Georgette, have three daughters and one son; their oldest, Josette, is a freshman at UC Merced.
Rodriguez holds a bachelor's degree in Criminology, Law, and Society, from the University of California, Irvine, and a master's degree in City and Regional Planning from Cal Poly, San Luis Obispo.
When asked to comment about their selection for the position, Mayor and Council members expressed their confidence that Mr. Rodriguez's familiarity with the Madera community and its needs, along with his proven track record of success in local government, make him a great fit to become the new City Manager.
Rodriguez could start as soon as early December.