City of Madera:


LATEST NEWS
February 19, 2020
Annual curbside cleanup program begins March 9, 2020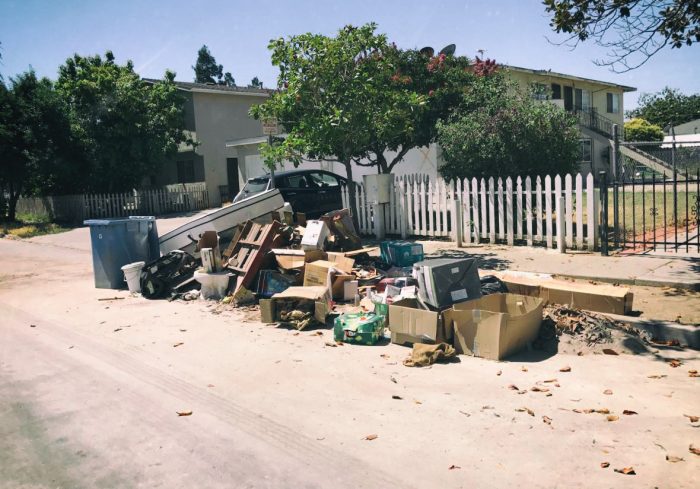 Mid Valley Disposal (MVD) personnel will begin the annual curbside cleanup program on Monday, March 9, 2020.
The Citywide Curbside Cleanup is designed to assist City of Madera single-family homeowners and residents in the removal of excess trash, rubbish, and other bulky items not collected during normal weekly service.
Residents can begin placing debris in the street in front of their residence 72 hours (3 days) before their scheduled cleanup date. The maximum size of discard piles should not exceed 5'x5'x10' (roughly the size of two truckloads) and be placed at least 6 inches away from the curb to avoid blocking sewer vents, water inlets, mailboxes and fire hydrants. If you have an outdoor basketball hoop located curbside at your residence, MVD kindly requests that you bring it in until such time as the cleanup program in your neighborhood has concluded.
For the purposes of this cleanup event, the City of Madera has been divided into three zones:
Zone 1 – East Madera, March 9th to March 23rd
Zone 2 – Northwest Madera, March 24th to April 6th
Zone 3 – Southwest Madera, April 7th to April 17th
Please view the program flyer for more detailed information about what can and cannot be discarded during the event: (English) (Spanish).
Maps will be provided to each zone no less than two weeks prior to the start of service in that zone. If you have any questions regarding the curbside cleanup program, please contact MVD at (559) 237-9425.
The Annual Curbside Cleanup Program is a major undertaking which requires a concerted effort from MVD, City personnel, and residents. MVD and City staff sincerely appreciate the assistance of community members in helping to maintain the continued success of this great annual event.