City of Madera:


LATEST NEWS
January 29, 2021
Citywide curbside cleanup program begins March 1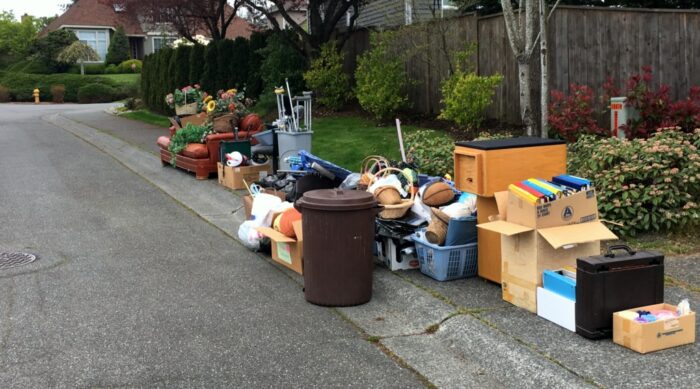 The Citywide Curbside Cleanup program assists residents in the removal of excess trash, rubbish, and other bulky items not collected during normal weekly service.
View the 2021 Citywide Curbside Cleanup flyer by clicking here.
Due to COVID-19, all loose debris must be bagged or boxed.
Residents can begin placing bagged/boxed debris in the street in front of their residence up to 3 days before their scheduled cleanup date. The maximum size of discard piles should not exceed 5'x5'x10' (roughly the size of one truckload) and be placed at least 6 inches away from the curb to avoid blocking sewer vents, water inlets, mailboxes, and fire hydrants. Please separate your debris, appliances, mattresses, electronics, green waste, and general trash, and relocate any outdoor basketball hoops left curbside at your residence until the cleanup program in your neighborhood has concluded.
The following prohibited items will not be collected during the curbside cleanup program:
• Lawnmowers or any other two-stroke motors
• Auto parts
• Construction or demolition material
• Light bulbs / Fluorescent Tubes
• Flammable or hazardous material including motor oil, grease, coolant
• Acids, oxidizers, and bases. Includes pool chemicals and cleaners
• Pesticides and herbicides
• Compressed gas cylinders, and propane tanks used for BBQ
• Hypodermic needles or Medical waste
• Paint, paint thinners, lacquers, or wood stains
• Liquids
• Batteries or any item containing batteries
• Dirt, rock, sod, asphalt
• 50 gallons drums
• Tires
• Items over 4' in length
• Items over 150 lbs.
Prohibited items will be left at the curbside and items must be removed by the resident within 24 hours after the scheduled cleanup date.
For this event, the city has been divided into three zones:
Zone 1: East Madera (3/1 – 3/12) – COMPLETE
Zone 2: N.W. Madera (3/15 – 3/26)
Zone 3: S.W. Madera (3/29 – 4/9)
Zone Maps can be found above and will be mailed to homes in each zone no less than two weeks before the start of service in that zone. For questions about the program, please contact MVD at (559) 237-9425. The Curbside Cleanup Program is a major undertaking that requires a concerted effort from MVD, City personnel, and residents. MVD and City staff sincerely appreciate the assistance of community members in helping to maintain the continued success of this great annual event.